PROGRAMMES
Service Programmes
ELISTA Education is pleased to announce its support to "Visits from Doodles". "Doodles" is a Miniature Pony that will be enhancing the lives of nursing home residents, hospital and hospice patients, special needs children and all others that have the pleasure of meeting him! Katrina O'Donoghue, ELISTA Education Tutor and Doodles owner offers Equine Assisted Therapy Facilitation through "Visits from Doodles".
If you would like a visit from Doodles (and live in the Cork area) please contact Katrina on: 0879783382. Please note ELISTA Education does not run this programme, but supports it through a modest sponsorship style contribution. Visits from Doodles is a non-profit service and donations are gratefully received.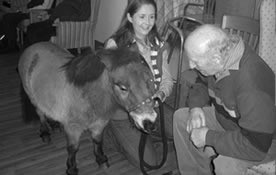 Doodles and Katrina visiting elderly patients. Animals support reminiscence in the elderly, as well as physical movement and self esteem among many other things.

ELISTA Education also offers short programmes or courses for other groups interested in the areas of Animal Assistance and Therapy, Welfare and Rehabilitation. If you are a member of a school, club or professional body that would be interested in having a programme/course/seminar/workshop or other prepared specifically for you then please contact us.